I have never really used a makeup primer, never knew the benefits of using one, but decided to give one a try. I purchased the Claudia Stevens Facial Prep Foundation Base at Sally's Beauty Supply.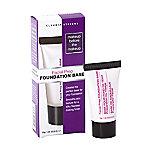 This was about $5 and has lasted me about 2 months so far. I put on a moisturizer, if I remember, and then apply just a small pea sized amount to my face using my fingers.
Here are some of the benefits I have noticed while using a primer for my makeup:
1) Helps my makeup stay "fresh" longer, it really helps it last!
2) Helps smooth out my skin so that I get a smoother overall look after applying my makeup.
3) It doesn't take as much foundation as usual, it really helps me to "stretch" my foundation.
4) The makeup just "glides" on!
5) I feel like it actually helps my foundation give me better coverage.
I really enjoy the texture of this product as well. It is hard to explain but I will try. It is not a lotion, more like a gel, but not cool like a gel, if that makes sense. :) There is also little-no scent with this particular primer, so smell sensitivity should not be a problem.
I have very sensitive, dry/normal skin and I have had no issues while using this primer. No breakouts, no rash, and no itchy blotches, which happens when I use some of the Name Brand primers and skin care lines.
I really hope this helps to make your makeup last all day!!